About Us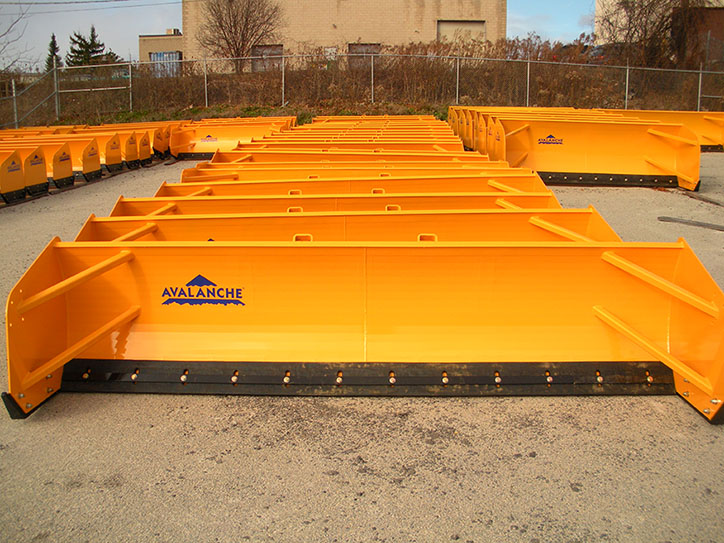 In 1992 one of the biggest snow removal contractors in Canada faced a problem: how to keep up with some of the worst winters in the world. As a solution they designed and built a containment plow to drag behind a tractor. They quickly realized that this invention made them three times faster than plowing with a straight blade. They began manufacturing box plows to fit their other heavy machinery and an industry was born.

Today, Avalanche™ Snowplows are known for two things above all: build quality and innovation. Here are just a couple of examples:
Strength
The Avalanche™ bucket receiver is built of solid steel plate; far superior to hollow box tubing which can rust out and fail.
The Avalanche™ steel trip edge works with heavy duty torsion springs to give unmatched stiffness of attack and build strength. It's quite simply the best-performing steel trip edge system on the market.
Blade floatation on the top-end Contour™ model works on steel swing arms. Far stronger than the poly blocks used on other sectional type plows.
The Avalanche™ Contour™ is a cutting edge snow pusher in every way. Featuring independent blade sections that float as well as trip, it self-adjusts to the Contour™s of the pavement to give unbeatable cleaning performance.
The floating receiver system (on 500 and Contour™ models,) allows the whole unit to move up and down in response to uneven ground.
Self-leveling wear shoes (Contour™, 500 and 400 models) eliminate the need for the operator to hold the box level while plowing. These features allow for 'drop and go' plow operation.
Several features of our snowpushers are protected under U.S. and Canadian patents in force or pending.
At Avalanche™ our aim has always been to give our customers the best possible snow-removal equipment, products that will stand up to the inevitable knocks and keep giving reliable service year after year. We believe that you never regret buying quality. This philosophy will continue to guide every decision we make.