Hydraulic Power Wing Plow
Posted on: May 07, 2014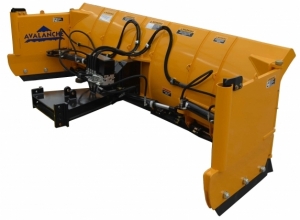 We are happy to announce today the release of the Avalanche hydraulic Power Wing Plow. Available to fit ag tractors, loaders and skidsteers. The plow angles left and right and the wings move through 180 degrees, all under touch button control from the 10 function joystick.
The Avalanche power wing is the most versatile plowing solution you can find. Use it to windrow, scoop, push and back drag. The steel trip edge cuts through even hard-packed snow on the first pass, making this a total plowing solution in all conditions.
This plow is the product of many years of expertise in hydraulic power equipment and is built to the exacting standards you expect from Avalanche Snowplows.
See the web pages under 'products' for more details and images.
Blog Comments