What's New in November 2012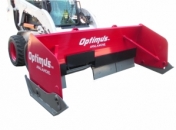 Posted on November 26, 2012
The brand new Optimus pusher is now available. This could well qualify as the most advanced snow pusher on the market. Each individual trip section adjusts in height in response to the gradient of the ground, ensuring that the blade is in constant contact with the plowing surface.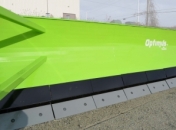 Posted on November 26, 2012
We think the red and gray paint job on the Optimus looks great. However, we don't mind doing a custom paint job when a customer asks for it. Here's one that went out last week.