In the mountains
Posted on: August 12, 2016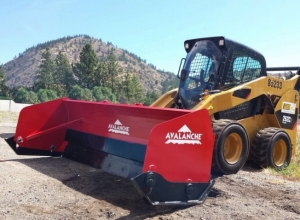 Here's a 10ft Optimus skidsteer model set up in beautiful Kelowna, British Columbia, ready for a tradeshow. Thanks to the guys at GRM for putting on a great show and for their excellent hospitality.

The Optimus has a sectional cutting edge with 2ft blades that float up and down, allowing the edge to contour to uneven ground. Both floating and tripping actions are governed with steel springs rather than rubber blocks. It can be used to stack snow just like a regular box plow. A floating receiver lets the whole unit adjust on the fly, making the operator's job much easier.
Call Avalanche toll-free for a quote.
Blog Comments